22 Sep

3 of the Coolest Custom Golf Cars We Have Ever Seen

Custom Golf Carts Rocklin | Electric Golf Car Company Sacramento
These Custom Golf Carts Are Beyond Belief!
Electric Golf Car company sure loves to refurbish and customize golf cars. We love when customers come in with original ideas for a custom golf cart. We are also fans, just like you, of great, creative custom work. Perusing the internet we came across 3 of the coolest custom golf carts we have ever seen…check them out!
The Batmobile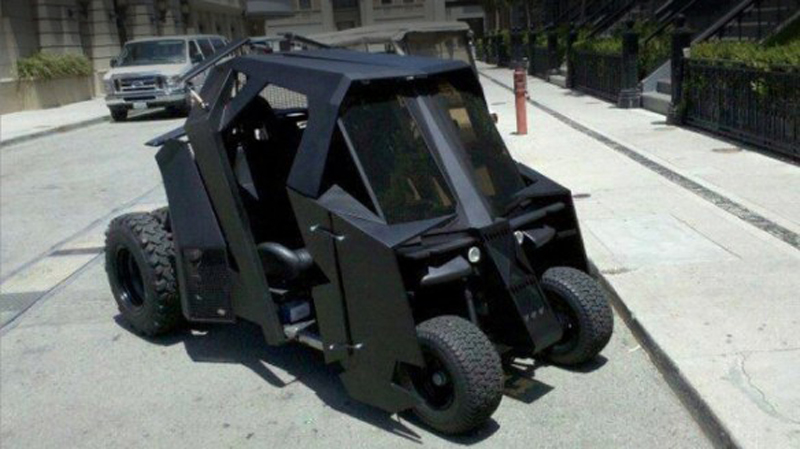 This thing is straight out of a movie and looks ready to DESTROY!!! Imagine rolling up to the golf course in this bad boy. Obviously you better be wearing matching "Batman-black" apparel if you are driving this Batmobile inspired golf cart. Talk about intimidation factor! Apparently available through Hammacher Schlemmer for a cool $28,500, the Gotham Golfcart features things like:
6 course-friendly tires
38 MPH top speed
rear "
afterburner" replica
4-link rear suspension
rear disk brakes
The Tow-Mater
Another movie inspired golf cart here. This one from the Disney classic, CARS, featuring none other than Tow Mater! This is actually a 2013 EZ GO RXV conversion and features working custom lights in addition to an incredible custom look! We really admire the craftsmanship that went into creating this great, working replica.
Monster Truck Golf Carts
This is more of a category unto itself than just one cart. We think it is awesome to see a regular golf cart turned into a jacked, mud eating machine! These probably won't fly on your local golf course, but they sure look like fun. Not to mention, they are major head turners. Some of these are actually a little bit functional in their suspension upgrades, meaning you can truly take a custom electric golf car just about anywhere.
Your Electric Golf Car Specialists!
Hope you enjoyed some CRAZY custom golf cart ideas! Which one was your favorite? If you have any cool custom carts to share please POST to our FACEBOOK PAGE!
Did you know that the cities of Lincoln and Rocklin in Placer County are super electric golf car friendly? These make an excellent alternative to driving your car, particularly when you just need to make a quick stop to the market. Come down to Electric Golf Car Company TODAY to tour our selection of new and used electric golf cars, NEV's, and LSV's! We have the best used, new, and custom golf carts Rocklin has to offer.
Electric Golf Car Company is Northern California's premier custom golf car service center! NOW is a great time to invest in your own custom golf car, so be sure to check out our gallery or come by our show room.
To learn more keep checking back with Electric Golf Car Company's Golf Car Guru! And follow us on social media for all the latest news, articles, and available golf cars!
Custom Golf Carts Rocklin | Electric Golf Car Company Sacramento
CHECK OUT OUR NEW AND USED GOLF CAR INVENTORY