21 Apr

Most Expensive Golf Carts

Most Expensive Golf Cars | Electric Golf Car Company Sacramento
These Expensive Custom Golf Cars Will Blow Your Mind! …(And Wallet)
We love seeing how much fun people are having customizing their electric golf cars. Really, you are only limited by your imagination. The crew at Electric Golf Car Company loves seeing all the cool and creative customs out there, which is why we are constantly on the hunt for cool pictures and articles about it. As far as we are concerned, custom does not HAVE to mean expensive. However, these are great examples of what is possible when your custom golf car budget is unlimited!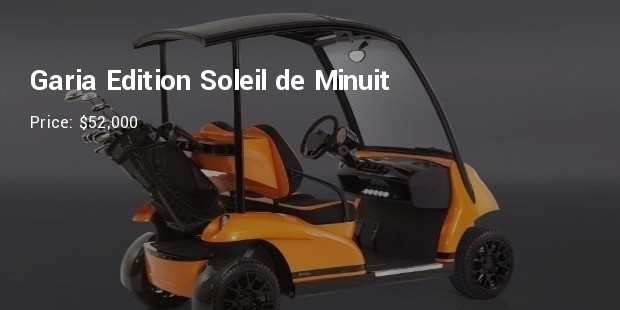 GARIA EDITION SOLEIL de MINUIT
$52,000
OK so the most expensive electric golf car may not look like anything particularly special, but it's what's inside that makes this thing so special. Start with a Ducati Motorcycle gear box, add BMW M Series inspired carbon fiber, and suspension that mimics F1 race cars, you suddenly realize that this isn't your average golf car.
With performance that likely far exceeds anything you will need on a golf course, or otherwise, the Soleil is a special one of a kind with a price tag to match!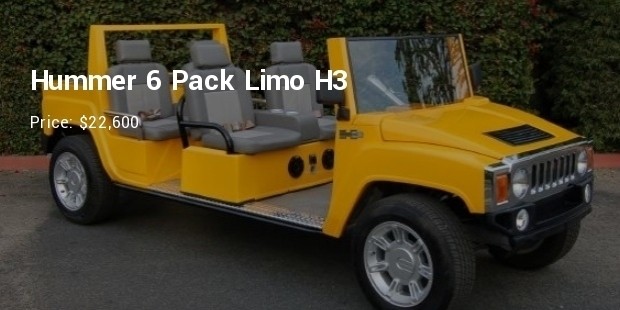 HUMMER 6 PACK LIMO H3
$22,600
Licensed by GM to officially resemble the Hummer H3, this bad boy definitely looks the part. With room for 6 passengers, upgrades include Hummer style rims, and a special drive system that gives it extra power and control.
If you like this, be sure to check out our very own HUM-G edition, with an actual reasonable price tag!!
THE BROOKLYN
$18,999
Inspired by Bentley, this roof-less golf car is the epitome of luxury rides, featuring hand stitched leather, chrome rims and accents, and pearl paint.
Our favorite touch is the diamond plate step-up, giving this smooth cruiser an element of ruggedness and functionality.
THE GARIA
$73,000
Bringing it back to Garia, this super special edition golf car resembles something from the future. This baby has all the safety upgrades that make it a fully street legal ride, and features 14″ aluminum rims, high end stereo, and a drive train that can hit 25 MPH!
Extras include built-in refrigerator and hand-stitched leather, and an audacious price tag you can boast to all your Country Club buddies.
Custom Electric Golf Cars Can Be Affordable
These are some fun and wild, not to mention expensive custom golf cars. However, a custom electric golf car does not have to break the bank. Electric Golf Car Company has been creating the very best in custom golf cars for Sacramento for years, at reasonable prices. Be sure to check out our new and used inventory, and ask us about our special financing offers!
Most Expensive Golf Cars | Electric Golf Car Company Sacramento
CHECK OUT OUR NEW AND USED GOLF CAR INVENTORY